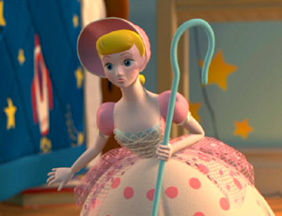 Appearances: Toy Story, Toy Story 2, Toy Story 3
Voiced by: Annie Potts
Bo Peep is a sweet and lovable porcelain shepherdess figurine. Bo Peep and her sheep are adornments of Molly's bedside lamp. She is inspired by character of classic children's nursery rhyme Little Bo-Peep. Bo is sometimes considered to be "Andy's toy", because Andy likes to make her the damsel in distress of his plays. Bo is the romantic interest (later girlfriend) of Woody, providing a calm and loving comfort whenever he is overwhelmed. She is noted for using her shepherdess crook to hook her cowboy and bring him closer in a romantic way.
Bo Peep didn't make an appearance in the Toy Box Heroes line before its cancellation.
Personality: Sweet, calm, nice, beautiful, caring, gentle, helpful, smart
Alignment: Good
Community content is available under
CC-BY-SA
unless otherwise noted.