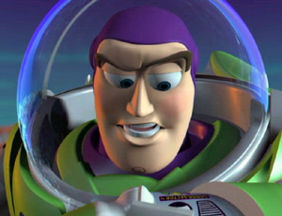 Appearances: Toy Story, Toy Story 2, Toy Story 3, Toy Story 4
Voiced by: Tim Allen
Buzz Lightyear is a toy — a spaceman action figure — whereas the television properties follow the adventures of the fictional space ranger on whom the toy is modelled. Introduced as a birthday gift for Andy, Buzz at first does not realize that he is a toy, believing himself to be the real Buzz Lightyear. Eventually Buzz and Woody meet up and through a series of incidents, and Buzz finally comes to realize that he is, in fact, a toy. At first, he falls into depression after learning the truth, but with encouragement from Woody, he gradually comes to accept the situation (being loved by Andy).
Buzz Lightyear currently has appeared in the Toy Box Heroes line two times:
In his classic green, purple, and white costume, pointing in the Buzz Lightyear and Alien 2-Pack
In his classic green, purple, and white costume with his arms out in the Buzz Lightyear and Lenny 2-Pack
Personality: Funny, protective, daring, impatient (sometimes), stubborn, brave, smart, sweet, understanding, confident, kind
Alignment: Good
Community content is available under
CC-BY-SA
unless otherwise noted.