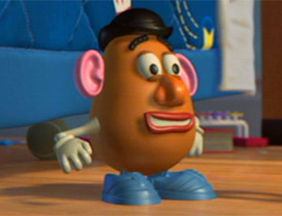 Appearances: Toy Story, Toy Story 2, Toy Story 3 Toy Story 4
Voiced by: Don Rickles
Mr. Potato Head (often referred to as simply Potato Head) is a moody Mr. Potato Head doll by Playskool. He is outspoken, sarcastic and jealous. A potato-shaped toy, his patented design allows him to separate his detachable parts from his body by removing them from the holes on his body. He also has a compartment on his lower back to store extra appendages. For unknown reasons, he is the only toy shown to be capable of retaining control over his parts even if they are several cemtimeters/inches away from his main body. For example, he can still see if his detachable eyes are removed, as well as being able to move his hands if they are detached.
Mr. Potato Head currently has appeared in the Toy Box Heroes line one time:
In his classic look, blue shoes, orange nose, and mustache in the Mr. Potato Head and Rex 2-Pack
Personality: Rude (sometimes),Funny,Sweet,Kind,Caring,Mature,Smart
Alignment: Good/Neutral
Community content is available under
CC-BY-SA
unless otherwise noted.