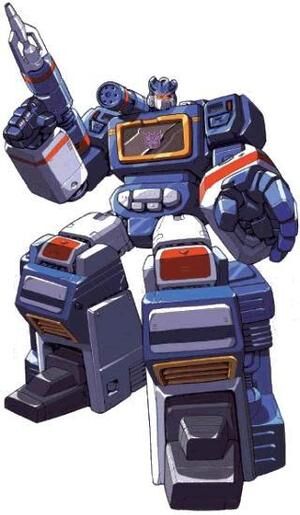 Universe: Generation One
Transforms into: Communications tower, Microcassette deck, Stock Car, Motorcycle, Cybertronian tank
Faction: Decepticons
Voiced by: Frank Welker
Appearances: Transformers the Cartoon
In the original Transformers cartoon — his most prominent role in Transformers fiction — Soundwave was Megatron's right-hand robot, frequently sent on important reconnaissance missions with his cassettes, and often playing a key role in many schemes against the Autobots. On Cybertron, he used his ability to transform into a roadside fixture to spy on the Autobot city of Iacon, learning of the Autobots' plan to search for energy on other worlds. Joining in Megatron's attack on the Autobots' craft, Soundwave fell to the same fate as the rest of the ship's occupants when the craft crashed on prehistoric Earth, entombing everyone within in stasis. Immediately after the Transformers awakened on Earth in 1984, Soundwave played an essential role in the generation of energon cubes and the formation of plans for a new space cruiser to return the Decepticons to Cybertron. Later, he used his mind-reading talents to acquire an antimatter formula for the Decepticons from the brain of Chip Chase. He and his cassette minions were often on spying missions against the Autobots. Soundwave rarely displayed much emotion, infrequently exhibiting any traits that could be considered to be in line with his tech spec. However, he showed distress when one of his cassettes were hurt in battle, and he always came across as extremely loyal to Megatron, even going so far as to recover his body after being left for dead at the Battle of Autobot City in 2005. But while Soundwave was loyal, he was far from outspoken, and kept silent when Megatron's body was subsequently ejected into space, and although he did suggest himself as a replacement leader, Soundwave again loyally served Megatron when he was recreated as Galvatron. In the year 2006, although operating in a less prominent capacity for most of the time, Soundwave played a prominent role in Galvatron's attempt to learn the secret of a sonic weapon on the planet Eurythma, where sound and music were the way of life, leaving Soundwave entranced by the planet's perfect melodies. Recording each piece of the harmony that formed the devastating sonic effect, Soundwave was defeated when the Eurythmans countered the harmony with white noise, and was again pulled into a confrontation with Blaster, who erased his recordings.
Soundwave has currently appeared in the Robot Heroes line one time:
Community content is available under
CC-BY-SA
unless otherwise noted.